Where to buy a bag Gerard Hénon?
You can find a product Gerard Hénon at one of our partners throughout France (see "Sales network"). You'll find information and advice regarding our products.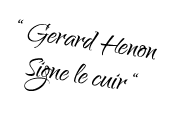 How to maintain the genuine leather bag?
Our genuine leather bags are noble and high quality materials. They are only protected by a layer of aniline which ensures flexibility and fine authenticity. If you wish, you can waterproof your leather bags for more protection from moisture or dust. We advise you to seek the advice of a specialist who will advice you to good suitable products.
Please note that this step is not essential because the quality of a leather lies primarily in the peculiarity of its natural wear and its evolution with your wearing habits. These variations in color and texture, says "skating" can give the leather cowhide some very significant authenticity.
For maintenance over time, it is possible to apply a moisturizer to skin (soft baby cream for example) using a soft cloth to give depth to dyeing leather and a touchdown more pleasant. Warning : whatever the product used, it must be colorless.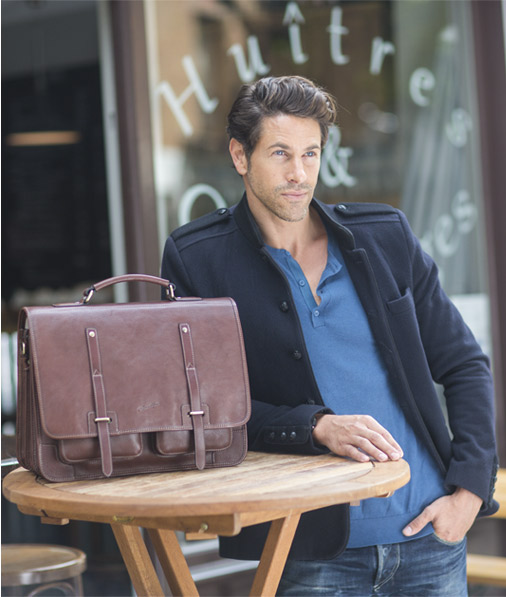 How and where are manufacture Gerard Hénon bags?
The brand products are designated in Paris, to both have a clear vision on trends while remaining faithful and responsive to the tradition of his leather craft. However, in order to offer its customers the best value, the brand has opened an overseas manufacturing. The main material, the Leather Cowhide, comes meanwhile from the best tanneries in Tuscany, cradle of leather goods in Italy. Our specifications and our quality control following pre-established standards and does not vary with their place of manufacture.
Gerard Henon the products are guaranteed?
All products of the brand Gerard Henon purchased in the official sales network are guaranteed for 1 year from the date of purchase (according to the receipt).
Covered by the warranty:
- Parts and metal accessories: zipper, buckles
- Manufacturing defects found
Not covered:
- Scratches on Leather
- Tasks of fat or moisture
- Damage caused by misuse
In all cases, it is necessary to keep the ticket or receipt transaction and contact the store where the product was purchased or, failing that, the nearest dealer (see "list of outlets"). It shall follow the requirements of repair. Please note that requests for support will not be accepted and validated with receipt or no receipt.
What if the product is out of warranty?
If your item is damaged and a repair is possible, then you will be offered a quote. Initially, we invite you to contact preferably the store where the product was purchased. If you can not contact the store with your purchase, please contact Customer Service at the following address: c.foucher@gerard henon.com-in with your email photo documentation.